Balloon Sinus Surgery in Kirkland, WA
Sinus infections can be painful and disruptive to a person's daily life—especially when they drag on and on. It can be frustrating to try a variety of conservative treatments and still be suffering from the uncomfortable symptoms of chronic sinusitis. After other treatment efforts have failed, balloon sinus surgery in Kirkland, WA may be able to help patients find relief. This minimally-invasive procedure can help relieve sinus pain and increase patients' quality of life. It is a simple surgery that involves inserting a balloon made of high strength plastic into the nose to reach the blocked sinuses and restructure them for improved comfort and nasal function.
Here at NW Face Medical, we are pleased to offer balloon sinus surgery and expert medical advice to patients in Kirkland, Bellevue, Seattle, and the surrounding areas. Dr. Sunil Ummat, our ear, nose, and throat (ENT) specialist, and his colleagues use state-of-the-art techniques and technologies to ensure that each patient enjoys optimal results.
Chronic Sinusitis Explained
Chronic sinusitis is a condition in which the cavities that surround the nasal passages or sinuses experience swelling and inflammation continuously for at least 12 weeks. This condition can lead to a variety of uncomfortable symptoms such as thick discharge from the nose or back of the throat, nasal congestion, pain and tenderness that surrounds the eyes, nose, cheeks, and forehead, and a diminished sense of smell and taste.
Causes of Chronic Sinusitis
There are a number of possible causes of chronic sinusitis. The most common trigger, however, is allergies, like hay fever or allergies to chemicals and pollen. Allergies can lead to the inflammation of the nasal passages, causing symptoms that negatively impact the quality of life.
Polyps or tissue growths inside of the nose may also lead to chronic sinusitis because they can block the sinuses and make breathing through the nose a real challenge. Abnormalities in the wall of tissue between the nostrils, often known as a deviated septum, may limit the airflow in one or both nostrils and also contribute to chronic sinusitis. Other less common yet possible causes of chronic sinusitis include cystic fibrosis, asthma, HIV, and gastroesophageal reflux disease.
Treatment of Chronic Sinusitis: Balloon Sinuplasty
Conservative treatments for chronic sinusitis should always be used before resorting to surgical correction. These treatments may include medications such as antibiotics, nasal sprays, and aspirin or home remedies including rest, drinking plenty of fluids, and sleeping with an elevated head and neck.
In the event that conservative treatments do not improve symptoms or help patients find relief, a surgical procedure such as balloon sinus surgery may be necessary.
Good Candidates for Balloon Sinus Surgery
Ideal candidates for balloon sinus surgery in Kirkland are patients who have tried conservative treatments and have not found relief from their sinusitis symptoms. Symptoms that may indicate a patient could benefit from this procedure include facial pain or pressure, congestion, sinus headaches, dizziness, coughing, changes in taste and smell, and fatigue.
Patients with a deviated septum or nasal polyps are not good candidates for this procedure as these issues do not involve the sinuses. However, these conditions may also lead to breathing challenges and may require surgical intervention with a different procedure. Our Bellevue area experts can recommend the most appropriate treatment option for each patient.
What to Expect During a Consultation
Patients who are living with chronic sinusitis are encouraged to visit our office for a consultation. Dr. Ummat, our ear, nose, and throat specialist, will sit down with each patient and ask them a number of questions to determine whether or not they may be good candidates. He may also perform some diagnostic exams like CT scans and allergy tests.
If the doctor concludes that balloon sinus surgery is a viable treatment, he will go over the procedure and recovery process. The consultation is the perfect time for patients to ask any questions or express any concerns they may have.
The Balloon Sinus Surgery
Balloon sinus surgery in Kirkland, WA is performed in our state-of-the-art facility under local or general anesthesia. We discuss an anesthesia plan during the patient's consultation so they are well-informed of what will occur before the procedure.
During balloon sinus surgery, Dr. Ummat will insert a small flashlight, attached to a wire, into the sinus cavity. This will allow him to see exactly what he is doing. Then, he will insert a flexible and slender balloon catheter into the patient's nasal passage. The balloon will gradually inflate and expand the sinus opening.
Next, the doctor will use a saline solution to wash out any pus or mucus that has built up. The patient will likely feel less pressure during this stage. When the balloon is in the sinus passage, it will restructure the bones that surround the sinuses. As soon as this process is complete, Dr. Ummat will remove the balloon. At the end of the procedure, the patient will be left with a wider sinus passage that promotes comfort.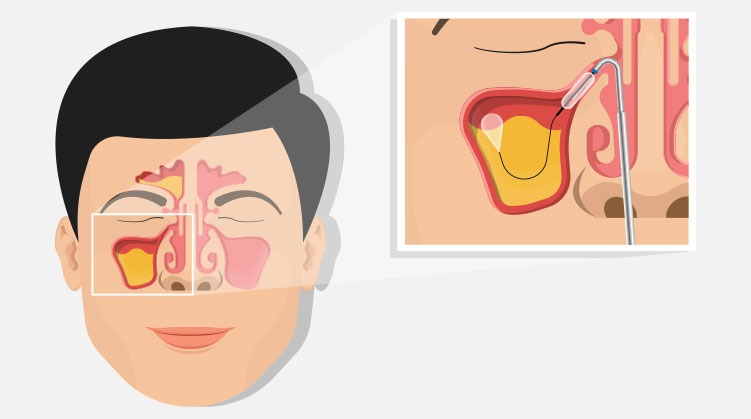 Recovering From Balloon Sinus Surgery
Following balloon sinus surgery in Kirkland, WA, most patients resume their daily routines within a few days. For the first 24 hours, patients should refrain from blowing their nose. They will also need to stay away from any vigorous exercise or activities that may raise their heart rate for a week. A saline solution will be prescribed so that patients can rinse their nasal passages for about three to seven days.
Sleeping with an elevated head and neck may be recommended in order to relieve any discomfort from drainage. While this surgery rarely causes any significant pain, a pain reliever may be prescribed if necessary.
A week after surgery, patients may notice blood discharge from their nose as well as a bit of congestion and fatigue. These side effects are completely normal and not a cause for concern. Within five days to a week after balloon sinus surgery, patients should be completely healed and should no longer experience any side effects.
Why Choose NW Face Medical?
Balloon sinus surgery is a procedure that requires incredible skill and attention to detail. Here at NW Face Medical, we've performed many successful balloon sinus surgeries for patients in Kirkland, Bellevue, and Seattle, WA, and strive to provide the best possible outcomes for each of our patients.
Our ear, nose, and throat specialist, Dr. Sunil Ummat, is an expert in diagnosing and treating all kinds of sinus problems. You can count on our team to help you find relief from your chronic sinusitis so that you can live in comfort and enjoy a happier and more fulfilling life.
Risks and Complications of Balloon Sinus Surgery
If you are living with chronic sinusitis and cannot seem to find relief through conservative treatments, it is in your best interest to schedule a consultation at NW Face Medical near Seattle, WA. Our ear, nose, and throat specialists can thoroughly evaluate your condition, provide top-notch medical advice, and determine whether or not balloon sinus surgery in Kirkland, WA is a viable treatment option for your medical concerns. Call us at 425-522-0555 or fill out our convenient online contact form today.
Frequently Asked Questions About Balloon Sinus Surgery
What types of doctors treat chronic sinusitis?
While general doctors may prescribe medications for acute sinusitis, and chronic sinus infections, ear, nose, and throat doctors are the experts in these treatments. They can design custom treatment plans and perform surgeries for patients with chronic sinusitis.
How common is balloon sinus surgery?
Over 535,000 people have undergone balloon sinus surgery.
What is traditional sinus surgery like?
The purpose of traditional sinus surgery is to remove the bone and tissue of the sinuses in order to enlarge the sinus opening. Its goal is to clear the blocked sinuses and restore the normal sinus drainage. This procedure requires a long recovery with significant side effects such as pain and swelling.
Why is balloon sinus surgery preferred over traditional sinus surgery?
Balloon sinus surgery is less invasive than traditional sinus surgery. It involves less bleeding and pain as well as a faster recovery period. Most patients who receive balloon sinus surgery quickly resume their daily activities.
How long do the results of balloon sinus surgery last?
While results vary from patient to patient, most patients enjoy relief from their symptoms for nine months to two years after the procedure.
Is balloon sinus surgery safe?
As long as it's performed by a skilled ear, nose, and throat specialist, balloon sinus surgery is a safe, minimally-invasive procedure that can do wonders for improving a patient's overall quality of life. It was cleared by the FDA in 2005. Our Seattle area office has safely treated many patients using this method.
What type of anesthesia is required?
Both general and local anesthesia are options during sinus surgery. Dr. Ummat will discuss each patient's anesthesia plan with them during their balloon sinus surgery consultation in Kirkland, WA.
Will balloon sinus surgery modify the appearance of a patient's nose?
Balloon sinus surgery in Kirkland, WA will not change the outward look of a patient's nose. As soon as a patient has completely healed, they'll look exactly as they did prior to the procedure.
How does the balloon ensure the sinus stays open?
When the balloon is inflated, it makes tiny micro-fractures to the bone and keeps the position as it heals. For this reason, balloon sinus surgery is often a long-term treatment for many patients.
How long does balloon sinus surgery take?
Although the time it takes to perform balloon sinus surgery varies from patient to patient, the average time is 1 hour.
Is balloon sinus surgery a permanent solution?
Most patients are pleased to learn that balloon sinus surgery is a long-term solution that will help unblock their sinuses and make it easier for them to breathe through their nose and complete their daily activities. Patients with severe sinus problems may need to undergo repeat procedures, however.
Schedule a Consultation at NW Face Medical
When performed by a skilled and experienced ear, nose, and throat doctor, balloon sinus surgery is very safe. However, as with all surgical procedures, it does come with several risks and potential complications. Extensive bleeding after the surgery that requires nasal packing, an early return of sinus infections, or the future need for a more extensive procedure are all examples of some of the risks and complications that rarely occur.